*ALL of this needs promotion*
To learn anything we all go through a process! All new knowledge learned is always built on previous knowledge. THIS is how we all integrate new concepts.
If you're determined to build a successful E-business then you're going to have to learn some new skills. This is the fact!
AND... this is EXACTLY what these 4 PROMOTION Directories are all about...
* the learning STEPS TO eKNOWLEDGE *
In these Directories we only focus on the key, critical understandings necessary to operate a profitable Internet business. Understand these concepts and you too can run a successful web business.
Now, as we don't know you personally only you can decide where you currently 'reside' on this Knowledge ladder of Internet Success. And... only you can take the necessary steps to achieve your goals!
These Promotion Directories are just meant to be guides for your quest.
We've just walked ahead of you, is all.
---


NOW...
If you don't have the time to read these 4 Directories [below]...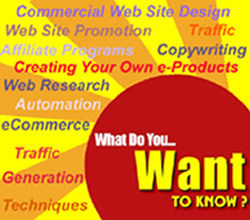 THEN... *Register Your Interest* by clicking on the link at the end of each section. The key information will be sent to you immediately. Important new information will be published in The e*Analyst ezine.
OR... Tell us what you want to know. Click on the graphic link, fill in the survey... and we'll give you a valuable ebook - *The Getting Started Action Guide* - for your participation in our ongoing survey.
Graphic Created By The LOGO CREATOR
---
Web Site Promotion - The Technologies
The Web is constantly changing. New promotional technologies are being added all the time.
However, the principals of promotion and marketing have been clearly established over the last 50 years.
Don't get confused by the *secret* techno-talk on the web about promotion.
It's not a *secret.* It's just a skill you can learn, with practice and commitment.
First, understand the principals. Then, find the technologies to deliver the techniques which FIT your web site.
This is where you'll go if you want to understand the technologies needed for web site promotion.
Remember, these technologies are changing all the time.
This may be a place you'll want to visit often.

---
Web Site Promotion - The Techniques
Web technologies change and evolve, and so do the promotion techniques.
But, remember *as much as things change they stay the same.*
If you understand the principals of marketing you'll get the hang of it quickly and you'll be off to a flying start.
This is where you'll go when you wish to keep up with the ever-emerging techniques for your website promotion.

---
Traffic Building & Strategic Relationships
When a fast food company offers a bottle of Cola Cola as part of its "meal deal" that's a (commercial) strategic relationship in operation.
These two corporations are swapping something, and it's not just cash.
You can do the same thing on the web. Well, the bottle of Coke may be just a little tough to deliver in a digital format... but there are other things.
Masterful Traffic generation is NOT just about Search Engine positioning. It's about sharing. Who are you sharing with on the web?

---
Web Site Management
Your web site will never be finished!
Argh... terror... run as fast as you can...
If you're not prepared to continually work on maintaining the relevance of your site for your customers/clients/visitors then you'd be best advised to go get a J.O.B.
It's in the same in the real world. It's called *growing your business.*
This is where you'll go when you wish to understand the critical aspects involved in maintaining your web site and continually BUILDING your online business.

---
The e*Analyst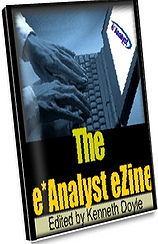 If you haven't worked this out yet, you soon will. There's a LOT of NONsense zapping around in cyber space about doing business on the web.
Get the FACTS here, FIRST...
SUBSCRIBE to The e*Analyst ezine.
... and we'll give you a valuable Thank you gift just for subscribing to the ezine.
---






-------->> T E S T I M O N I A L <<--------

As you say there's a lot of nonsense on the web. I just wanted to let you know just how much I enjoy reading The e*Analyst Ezine, because it's always full of such good, well written and informative material.

It's obvious that you know your subject area.

Enrique Garibay - Vice President http://www.proautoresponder.com







CAN'T FIND IT?

Copyright (C) 2000-2002 - EBanshu Ltd, Australia
About Us - Contact