PROMOTE
---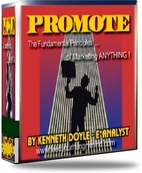 PROMOTE:
*The Fundamental Principles Of Marketing ANYTHING*... "As Applied To The Web."
To successfully operate a business on the web (or anywhere else) you need to have a solid understanding of the fundamental principles and practices of the discipline of marketing.
None of these principles are secret, hidden or in the language of some mystic.
These principles have been thoroughly researched, tested and applied over the last 50 years. Multi-national corporations have invested billions of dollars doing this.
When you understand these principles you'll understand how to sell anything, ONline and OFFline.
---
*PROMOTE* is an e*Work-Book about these principles, as applied to business on the web. The book has not been released yet, but it soon will be.
These are just some of the things you'll learn from *PROMOTE*
How to accurately research the market.

How to position your product in a crowded marketplace, so you'll "stand out from the pack."

How to "talk" to your customers in their language.

How to create an in-exhaustible stream of customers.
---
NOTE: *PROMOTE* is the digital version of a course on small business marketing the author was commissioned to write for the Australian Government.
Its content has been tried and tested on the streets ... and the course on which the ebook is based is still being taught in the National Curriculum at College level.
---
If you'd like to informed when the book is released then...
register your pre-launch interest by clicking on the link below.
However, if you'd like to be informed about the release of *PROMOTE*...
and also get a 20% discount then help us by... "Taking The Survey." below.



PRE-REGISTER my interest in *PROMOTE*

---
Take The Survey