Copywriting
---

Copywriting. Its Critical Role In The Success Of Your Web Site.
Web Copywriting
"As Much As Things Change They Stay The Same."
The Web is something we R.. E.. A.. D..
Although it (the web) has many wonderful and amazing "gadgets" we human beings still primarily gather our information through our dominant senses.
So, what's a dominant sense you ask?
Well, interestingly enough our dominant (most used) sense changes with each of us. Some of us have a number of dominant senses.
Essentially our dominant senses are our "seeing" .. "hearing" .. "touching" and "feeling."
Culturally we have been taught to retrieve information by SEEING.. reading, watching, viewing.
All our other senses play a secondary role in our information retrieval process (learning.) They turn the information into 3D format if you like.
However, our primary sense is SEEING.. thus, the R E A D A B I L I T Y of your web site is critical to your online success.
The "Z" Factor
In English speaking cultures we read in a "Z" fashion.
LEFT to RIGHT... then

LEFT and DOWN ... the next sentence / paragraph / bottom of the page or space... then

RIGHT again
So, why is this information important to the functionality and commerciality of your web site?
Well, it has been found that there are three POWER POINTS points for information in an advertisement.
top left hand corner
top right hand corner
bottom right hand corner
It's the eye following the "Z" curve, as it's called.
Add Some Emotion
Now, there's all that other stuff you've being hearing about.
Power words
Power phrases
Emotionally engaging the reader
Sell the benefits not the features etc
A Simpler Approach
The brain gathers information using our senses.
We have a culturally-dominant sense... our S E E I N G
We read using a "Z" curve. There are key information points on the curve.
The brain attempts to organize information by cross-referencing what we already know, like, understand and value.
The brain's first question of itself when it encounters new information is "What Is It?
If it (the brain) can't find that information very quickly - in the context of your web site - it says to its owner (the surfer) "This information is to hard. I don't know what it is, or of what value it is to me... click NEXT."
So, How Brain Friendly Is Your Site?
You can find this out by subscribing to this in-depth series on Web Copywriting techniques and practices... The Web Copywriting Series

Everywhere you look you'll find the the skill of the copywriter.
You don't believe me? Well, then think about these...
Advertising Billboards
Product packaging
Newsprint Ads
Radio Ads
Televsion Ads
Product Brochures
Newsletters
Flyers
Web Sites
The list is endless. We're swimming in a sea of words... Good words, bad words... words that sell us things... words that motivate us to do something... words that anger us... words that make us laugh, cry, fall in love... BUY SOMETHING.
AND... who's behind all these words?
The Advertising Copywriter... The Direct Sales Letter Writer...
The Political Speechwriter... The PR Consultant...
The Screenwriter... The Critic/ Reviewer...
The Song Lyricist... (and now) The Web Copywriter...
AND... they're ALL selling us something... an idea, a product, a thing, an emotion.
---
Is good copy important
for the success of your web site?
You'd better believe it!
You have two choices.
Get good at writing your own web copy... OR

Hire someone to write the copy for you.
It's as simple... and as important as that!
The web is something we R.. E.. A.. D..
You've got TEN seconds to GRAB a visitors attention.
You just have to have GOOD copy on your web site.
---
Option One - Get Good At Copywriting.
So how do you do this? *Find a Mentor*
AND... How do you know who's worthy of respect?
Easy.
A copywriter is respected...
because their words have sold a lot of stuff ($M) for clients.
These copywriters have done just that...
Read what they have to say about the subject.

Joe Vitale


Option Two - Hire A Copywriter.
If you don't feel confident about your ability to write - even with the guidance of a mentor - then you can always hire a copywriter to do it for you.
Both of these sites are respected for the quality work of their copywriters.

Dr Nunley

Copywriting.net


---
To wrap this up...
These above are some of the basic understandings related to web copywriting.
If you're interested in running a business on the web, then subscribe to The e*Analyst ezine, where this subject will be discussed in greater detail.


---
The e*Analyst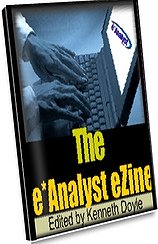 If you haven't worked this out yet, you soon will. There's a LOT of NONsense zapping around in cyber space about doing business on the web.
Get the FACTS here, FIRST...
SUBSCRIBE to The e*Analyst ezine.
... and we'll give you a valuable Thank you gift just for subscribing to the ezine.
---
-------->> T E S T I M O N I A L <<--------
Just thought I would drop you a note and let you know how much I enjoy your informative ezine. I rarely find time to read over as many ezines and I would prefer to. However saying that - after reading a few issues of the e*Analyst - I eagerly await my copy and usually learn a new trick every time I read your latest copy.
Good job!
Andrew Fox -
http://www.ultimatemailer.com