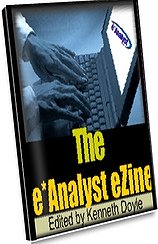 Editor: Kenneth Doyle, MA Comm
---
... Bi-Monthly ... ISSN pending ...
---
There's a lot of NONsense zapping around cyberspace about doing business on the web...

*Find out what works? ... what doesn't? ... and what's worth your money?*





---
The e*Analyst ezine is by subscription only!
If you believe you've received this ezine in error, or you no longer wish to receive it... Unsubscribe instructions are at the end of the ezine.
---
WHAT'S IN THIS ISSUE?
*In this issue we focus on POP-UPs.
*THE SPECIAL DEAL. Get a 20% discount off the already discounted price of Steve Shaw's miraculous POPupMaster generator.
... 20% discount.
Without ANY technical knowledge whatsoever you can be creating and running Pop-ups or Pop-unders on your site within minutes.
*FREE Download. Ken Evoy's "The Affiliate Masters Course" is widely regarded as the definitive course on Affiliate marketing.
It has now been created as the definitive ebook on the subject.
The download it FREE ... The Affiliate Masters Course ebook
*Web Site Analysis Winner Announced !!
---
Editorial Note:
In each issue of the e*Analyst the Table of Contents Headings remain the same, however the content changes. Click through to the item which interests you to read the new information in that section.
---
TABLE OF CONTENTS
THERE'S A PURPOSE TO THIS, RIGHT?
* Our [we're not just another ezine] mission statement *
EDITORIAL
* KJ Doyle - e*Analyst *
CAN I GET OFF THIS ROLLERCOASTER NOW, PLEASE?
* Strategies for working net-smarter *
THE CRITICAL ROLE OF WEB COPYWRITING
* Techniques for developing your copy writing skills *
WIN A FREE WEB SITE ANALYSIS or A PRO WEB SITE

* Find out why your visitors click AWAY.
Win a FREE web site analysis done by a web professional.
OR...Win a PRO web site valued at $2,000 USD *


FEATURED RESOURCES
* eBooks, web sites, discussion groups, courses, ezines, deals, your local Mafioso 'help' line * ...New Resource Added.
SPECIAL DEAL

* Every issue we track down a SPECIAL DEAL for our subscribers *
This issue's special deal has been negotiated with Steve Shaw from Popupmaster: a Popup creation program.

AND... this is the DEAL:
A WHOPPING 20% off the cost of the program
DO THE SURVEY - GET A DISCOUNT

* The ebook *PROMOTE* is in pre-launch stage. Find out what the book is about, participate in the survey and get a discount when it's released *

eSPONSOR - MAKE YOUR SITE SELL - FREE TRIAL
* The Make Your ____ Sell suite of Internet business related products are widely regarded as MUST HAVE resources for anyone serious about doing business on the net! *
Now you can trial these wonderful products for FREE!
e*ANALYST - The BREAKING NEWS Edition
* Whenever we come across something considered extremely important on the web the BREAKING NEWS edition of The e*Analyst is broadcast to subscribers.

This information is usually valuable, timely information from a respected source. The BREAKING NEWS is ONLY broadcast in these situations.

If you haven't got the latest edition of the BREAKING NEWS you can read it by clicking on the (above) link *
ABOUT US - Contact
---
Privacy Policy
This ezine is 100% Opt-in and all e-mail addresses are considered private and are not sold or distributed to any third parties.. EVER.
Your privacy will always be respected, and you can see our full privacy statement at ... Privacy Policy
Reprint Rights
If you find any of the articles in The e*Analyst Ezine valuable and wish to use them in your ezine please feel free to do so.
Please include all links and attributions.
You can access the articles in this issue by autoresponder...
Click Here To Get The Articles


Disclaimers
This ezine is for informational purposes only.
Consult appropriate professionals for more information.
Copyright (c) 1999-2002. All Rights Reserved.
Subscribe/ Unsubscribe Instructions
Click on this link ... To SUBSCRIBE.
OR...
See the UNSUBSCRIBE link at the bottom of this page.



* REFER A FRIEND *