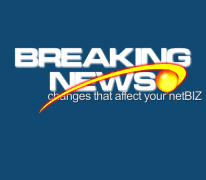 The e*Analyst's
Breaking News Edition
---
The web changes rapidly... constantly.
These changes affect your netBIZ.
*Breaking News* is about these changes. It is ONLY broadcast when something is considered important.
Date: Saturday, 19th October 2002
Hello e*Analyst Subscriber...
*Get 2 Of World's Most Successful Marketers On Your Team*
Every once in a while something extraordinary is announced on the web.
This is one of those times!
Jay Conrad Levinson is the genius behind many of the most outrageously successful marketing campaigns in Corporate history... and author of the most successful book ever written on marketing.
Mark Joyner bootstrapped his Aesop.com from nothing to become one of the top 100 sites on the web today... and his most recent book was listed as #1 on Amazon.com.
Both of these individuals are seriously successful in their respective fields of endeavour... and they've just joined forces to release a RADICALLY NEW concept that's needed by ALL online and offline businesses.
It's JUST been launched... and you've heard about it first!
Here's the link...

Guerrilla Marketing Bombshells
---
Comment: The BEST strategy to master any human activity is to find yourself a Mentor in that specific area... learn from them, until you've developed/ strengthened your own wings, then SOAR."
Kenneth Doyle - e*Analyst