FREE Download
---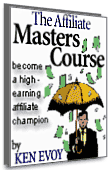 Now, the definitive auto responder course on Affiliate Marketing ...
The Affiliate Masters Course
... has been created as the definitive ebook on the subject at the same - better than a poke in the eye with a sharp stick - price !!
IT'S FREE !!
---
Allan Gardyne of Associate Programs - the Grand Master of affiliate marketing on the net - says... "This is the most important work on Affiliate Marketing available on the web."

Literally 1,000's of affiliates have become super successful using the principles taught in this course.

If you're marketing affiliate programs on the net, or if you've set up your own affiliate program to market your own products you just cannot afford to be without this book.

... and it's FREE !!
HERE'S WHAT YOU DO...
... Fill In Your Details And We'll Email The Download Instructions To You Immediately.

BROUGHT TO YOU BY... *Feed Your Hungry Mind*