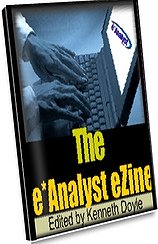 ~ THE e*ANALYST Ezine ~
Editor: Kenneth Doyle, MA Comm
---
... Bi-Monthly ... ISSN pending ...
---
There's a lot of NONsense zapping around cyberspace about doing business on the web...

*Find out what works? ... what doesn't? ... and what's worth your money?*




---
The e*Analyst ezine is by subscription only! If you believe you've received this ezine in error, or you no longer wish to receive it... Unsubscribe instructions are at the end of the ezine.
---
Click on the link below to read...
THE LATEST ISSUE OF THE e*ANALYST EZINE
- In this issue we focus on online web site systems -


* REFER A FRIEND *